Cash & cashflow have become the main focus for agencies during 2020....and rightly so!
We do still meet a lot of agency owners though who still have really manual processes and systems and that makes it really difficult to get a good handle on their current cash position and potential future cash flows.
Those of you who know us well, already know that we love Xero and will sing it's praises wherever we can. One of the main advantages of using a cool system like Xero is that it really helps with managing cashflow...here's how:
1. Prompt Invoicing
This is a shout out to all the agencies who still raise their invoices using Microsoft Word templates.
Stop it!
Xero makes the creation of your invoices simple and quick. Link it to your project management system and invoices can be raised as soon as the job is marked as complete.
There's no need to be waiting until month end to do the invoice run. Get those invoices sent as soon as possible. The quicker you invoice, the sooner you get paid
2. Auto Billing
If you have retainer clients or periodically invoice services such as hosting to clients, then Xero will allow you to automate that process and will send the bills out on your behalf. Your retainers will automatically be billed on the same day each month and never again will you forget that hosting charge!
3. Paypal/ Stripe Integration
One of the keys to getting paid quickly is to make it easy for clients to pay you. Xero invoices can hold "one click" integrations with services such as Paypal & Stripe where customers can click on the invoice and pay online, using a credit card. Simple & Quick!
Research undertaken by Xero (across all business types), showed that the integration of Paypal & Stripe onto invoices reduced the average payment time by 19 days in the UK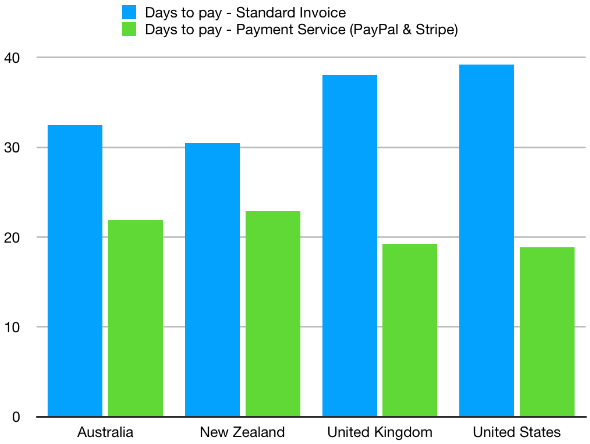 4. Using the notes function
Whenever you create an invoice in Xero, you can create a series of notes. Initially, this shows the history of who and when the invoice was created and if the email has been opened by your client. As you start to do your credit control, the notes function is a great place to store notes from previous conversations, giving you an up to date history on that invoice.
5. Up to date receivables
By using Xero, you will always have an up to date list of who owes you money and how long the debt has been outstanding for. Not only is this great management information, it's a vital tool in tracking and starting your "persistent and polite" credit control procedures
6. Automated Chasers
Xero contains a simple but effective automated chasing tool. You can set up to 5 reminders to chase an invoice and your own preset intervals after it becomes due. The system will automatically email clients with overdue invoices on your preset dates, together with your email chaser script. Be careful though....you need to keep on top of your bookkeeping to make this feature work properly. There would be not many things worse than chasing a client who paid a few days earlier!
7. making the most of the add on community
If the simplistic nature of Xero's chasing functionality isn't powerful enough for your needs, you can consider integrating one of Xero's add on partners to help with your chasing. These partner systems are more sophisticated as you can set specific chase schedules and wording for individual clients and invoices. This makes it all much more personalised. Our favourite add on for this process is Chaser
These automation tools are believed to reduce payment cycles by up to 16 days
So there you have it, 7 ways that you can use Xero to speed up the collection of cash in your agency.
What could you implement today to improve your agency's cashflow?